Agriculture is primarily a private sector affair. The government however has a duty to feed its people. The business that happens along the agricultural value chain is the business of private sector actors who have to ensure that they invest. When governments invest in agriculture, it is to deliver a social good to the community. Development actors augment government to deliver the social good which is normally geared to helping the people earn more. In many cases, a desired agriculture and nutrition calls for a solution which requires a structure, strategy, systems, staff, skills, style to help deliver shared value.
P4CDA uses the structures of the FarmHub at the farmer end and FoodHub at the consumer end. The FarmHub is the structural framework for service delivery by the youth as they support farmers to deliver their produce to a physical space where produce is aggregated or stored for the market. I(in order to ensure production reaches the desired level, inputs to the pre-production process are critical so that weather and related input data needs to be captured, together with soil data as well as data on pests and diseases. Some of these may need a human touch while many can rely on technology alone. Production is a critical layer but harvest which suffers not from technology or pesticides but rather on humans presents yet another challenge – management to optimize their contribution to the production process. The critical measures put in place to ensure compliance with the farmers expectations and other standards that are associated with the market is weight.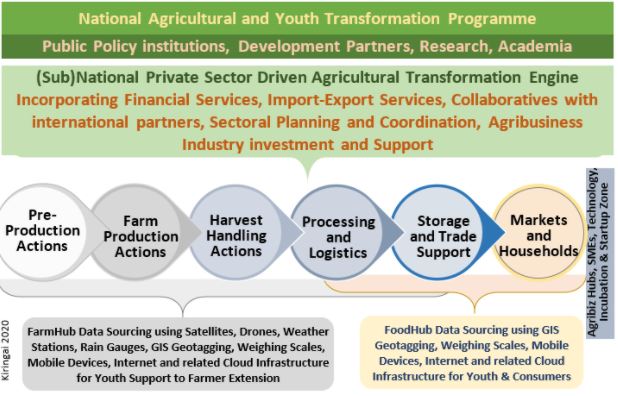 At all the levels, the potential to create value chain SMEs within the continuous framework. The framework of a producer agribusiness cooperative whose actions that range from pre-production to storage and logistics is what completes the FarmHub with payment infrastructure for those who need to be paid. Specialized technology, and technology platforms, ensure compliance to standards and levels of efficiency and effectiveness.
The data sourcing at the consumer end, comprising urban and peri-urban center households, as well as markets, provides the other dimension for hosting eateries and nutrition/recipe provision to households. At this level, there is no extension, only nutrition advice. This can be done at the consumer-eatery or at the household level by nutrition advisors. They use the Geopositioning tool, the FoodHub App for order placement and receipt of deliveries, as well as a payment settlement platform. It is only when data is sourced that the policy institutions become critical actors so that they can determine if they have a role to play in cushioning shortages or advising on excess storage offtakes.